After Fukushima, iodine pills pre-distributed or available to order near Canadian nuclear stations
"We have 10 (nuclear) reactors in the Greater Toronto Area, Canada's largest city," said Shawn-Patrick Stensil, a nuclear analyst with Greenpeace Canada. "Fukushima was a really rural area and the consequences of such an accident here would be way worse."
The Fukushima Daiichi nuclear station was not designed to withstand the earthquake and tsunami that hit it on March 11, 2011. According to a 2015 International Atomic Energy Agency (IAEA) report, the 9.0 magnitude earthquake generated a 10-metre tall tsunami that combined to wreck the station's on-site electrical capacity and cut it off from off-site power.
Without electricity to cool its nuclear reactors, the station eventually suffered meltdowns in three units, releasing radioactive materials into the atmosphere, ocean, and onto land.
Evacuation orders were issued and stable iodine, used to help stop the absorption of radioiodine in the thyroid, was administered. The emergency response however, was far from smooth. Among many issues in the disaster response, the IAEA noted broken lines of communication, "significant challenges" with evacuating patients from hospitals near the station, and that the distribution of stable iodine was hindered by inadequate pre-planning.
Five-years removed from the beginning of the Fukushima nuclear crisis, the distribution of stable, or potassium iodide (KI), pills around nuclear stations in Ontario is raising concerns that not enough is being done to ensure the safety of people living, working, and studying near nuclear stations.
As part of new requirements, KI pills have been distributed to 200,000 homes and businesses within a 10-kilometre radius zone of the Darlington and Pickering nuclear stations. Free KI pills have also been made available to order for individuals and businesses within 50 kilometres of nuclear reactors in Ontario. According to Ontario Power Generation (OPG) spokesperson Neal Kelly, there have been 15,001 KI pill orders in Ontario's 50-kilometre secondary zone as of Jan. 15.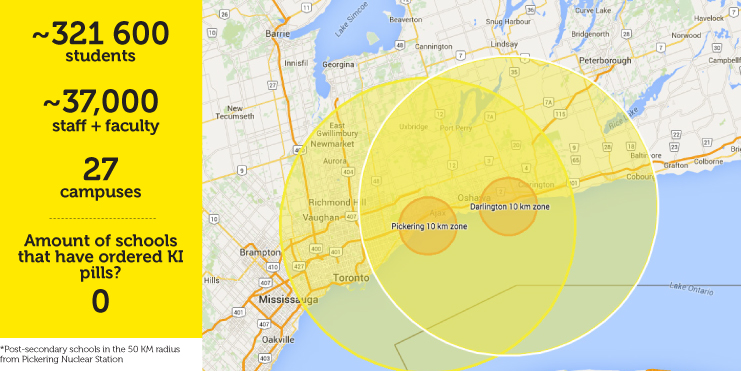 France, Sweden, Switzerland, the United States and others, have KI pill distribution zones around nuclear facilities. In 2014, Switzerland expanded their KI pill pre-distribution, sending pills to every home, business and school within 50 kilometres of its four operating nuclear stations.
Pickering Nuclear Station's 50-kilometre secondary zone engages Toronto from Morningside Ave in Scarborough to Mississauga. Seven of nine publicly-funded colleges and universities operating in this 50-kilometre secondary zone in Toronto, including George Brown, Centennial, and Seneca colleges, as well as York and OCAD universities, have said that they do not intend to order KI pills for staff and students. Humber College and Ryerson University have not responded to requests for comment. The University of Toronto's Scarborough campus is within Pickering's 10-kilometre primary zone, and as such has a supply of KI pills for its staff and students.
Lisa Marchitto, corporate communications manager at George Brown College, said that the college is aware of the availability of KI pills. However, due to the range of health considerations associated with the pills, the college's position is that it's best to let health professionals administer KI pills in the unlikely event of nuclear disaster.
"We would want the pills to be provided in a context where people could be assured of receiving appropriate and correct instructions about when, where, how and by whom the pills should be taken–which is best done by public health officials," said Marchitto.
The risk of side-effects from taking recommended doses of KI pills is very low for everyone with normal thyroid function, according to the preparetobesafe.ca website, where people in the 50-kilometre zone can order free KI pills. But, the website, established by OPG, the City of Toronto and Durham Region, says that people with iodine sensitivities as well as existing or previous thyroid conditions should consult with health professionals prior to taking KI pills.
In spite of the potential side-effects, the Canadian Nuclear Safety Commission (CNSC) stands by the benefits of taking KI pills in the event of a nuclear accident. "Decades of experience and studies in Canada and in other countries have demonstrated that the pre-distribution of KI pills can be done effectively and that its benefits are real and significant," said Michael Binder, president of the CNSC.
Theresa McClenaghan, executive director of the Canadian Environmental Law Association (CELA), thinks that not ordering the KI pills is a missed opportunity for those in the 50-kilometre zone. "All institutions, businesses, residences with workers, residents, with people attending during the day, during the night, within 50 kilometres should order the pills."
McClenaghan is particularly concerned about the well-being of children in the event of a nuclear accident. Children can absorb radioactive materials faster than adults, and KI, McClenaghan said, is much more effective if it is consumed at the beginning of nuclear accident before radioactive material is released.
"It would not be possible to get KI distributed fast enough to all of those (child-care) locations to really help after an accident sequence has started," said McClenaghan who stressed that everyone who has young children in their care should have KI pills on hand.
Each of the nine colleges and universities in the Toronto's 50-kilometre radius zone from Pickering run their own child-care centres with the exception of OCAD and the Michener Institute. Along with its partners, George Brown runs 10 child care centres, all of which are within 50 kilometres of the Pickering Nuclear Generating Station.
Greenpeace's Stensil thinks that post-secondary institutions should order KI pills, but ultimately the responsibility to ensure that the pills are pre-distributed lies with the province.
"I've seen no evidence that the province has done any outreach to these institutions to say 'this is something that you should do, this is something that would be good for the students, this is something that would be good for public safety'," said Stensil. "Aside from putting up their website, (preparetobesafe.ca), the province has done nothing to alert the public (in the 50-kilometre zone) of this program."
"Public awareness has been and will remain a key focus for all parties engaged in nuclear emergency planning," said Brett Ross, a spokesperson with the Ministry of Community Safety and Correctional Services.
Ross said that all residents within 10 kilometres of the Pickering and Darlington plants were sent brochures outlining safety preparations followed by a KI pill mailing in October. There was also a series of open houses held in Durham Region in the summer and fall of 2015. Ross said that more outreach is planned for both the 10-kilometre and 50-kilometre zones.
Ross said that emergency KI pills are stockpiled in provincial government and community facilities throughout the 50-kilometre zone. In an emergency, residents would be told where they could get KI pills.
In November, the City of Toronto's executive committee passed a motion to have city staff assess Toronto's nuclear emergency plan against international best practices and the appropriateness of current KI distribution policies.
For Toronto city councilor Mike Layton, the request to evaluate nuclear emergency planning for Toronto is about understanding why plans for Pickering and Darlington station seem less stringent than in other parts of the world, where KI pills are pre-distributed for up to 50 kilometres.
"It's about whether or not we're meeting the basic standard for protecting our residents," said Layton. "In other jurisdictions, they use the 50-kilometre range, so I want to know why is it that the province has a 10-kilometre primary zone, when other jurisdictions use 50?"
The report assessing nuclear emergency plans in Toronto was scheduled to be delivered by March, but is not yet available.
CELA and Greenpeace filed a request under Ontario's Environmental Bill of Rights to undertake an evidence-based review of current KI distribution policy. Claims made in the application for review include that there is no scientific basis for the policy as it stands, that the public was not consulted on the policy, and that evidence suggests that the current distribution zone inadequately protects Ontario's environment, public health and safety.
"I would advocate for the a broadening of the primary zone to be at least 30 kilometres," said McClenaghan. "Fifty would be better, but I would say that the policy should be based on evidence."
In January, the Ontario government pledged to go ahead with plans to rebuild four nuclear reactors at the Darlington Nuclear Generating Station, at a cost of $12.8 billion. In the same announcement, the government said they would extend the life of Pickering station to 2024. Pickering Station, which started generating power in 1971, was originally scheduled to be decommissioned in 2020.
With files from Iris Robin