Masthead
Editor
Matthew Green
editor@dialognews.ca
Assistant Editor
Ashraf Dabie
assistanteditor@dialognews.ca
News and features
news@dialognews.ca

Arts and Life
Ladshia Jeyakanthan
Reporter-editor
artslife@dialognews.ca
Opinion
Timo Cheah
Reporter-editor
opinion@dialognews.ca
Sports
Matthew Miranda
Reporter-editor
sports@dialognews.ca

Science and Technology
Kevin Goodger
Reporter-editor
sciencetech@dialognews.ca
The Dialog Podcast
Luiz Felipe Lamussi
Host and producer
podcast@dialognews.ca
Videographers
Shiva Krishna Rudravaram
video@dialognews.ca
Valeska Mendes Silveira
video2@dialognews.ca
Graphic Designer
Keynaz Varanloughouchan
design@dialognews.ca
Advertising Sales
Alicia Fung
416-415-5000 ext. 2462
ads@dialognews.ca
Publications co-ordinator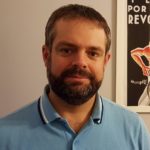 Mick Sweetman
416-416-5000 ext. 2764
communications@sagbc.ca
Follow @MickSweetman
The Dialog is the campus and community newspaper of George Brown College, established 1982. The Dialog is published by The Dialog Collective under the auspices of the Student Association of George Brown College (SA).
The collective is comprised of our managing editor and student journalists and is responsible for the overall vision and direction of The Dialog newspaper, as it coincides with the larger vision of mission of the SA.
The Dialog is a proud member of the Canadian University Press co-operative.
The cost of producing a fortnightly newspaper is in part defrayed by advertising revenue and largely subsidized by the SA. Advertisers, products and services do not reflect the policies of The Dialog or the SA.
Opinions expressed in The Dialog are not necessarily those of The Dialog Collective, its editorial staff or the SA.
The Dialog will not publish any material that attempts to incite violence or hatred against individuals or groups, particularly based on race, national origin, ethnicity, colour, gender, sexual orientation, age or disability.
Contributions to The Dialog are always welcome. Letters to the editor can be sent in an email message to: dialog@sagbc.ca. We request that articles be submitted as digital copies in plain-text (TXT) or rich-text (RTF) format. Images should be in EPS format as vector images or TIF format (Mac or PC). Originals only please.