Solidarity rally for striking college faculty at Humber College features performance by theatre students

By Kit Kolbegger
The Spare

Students at Humber College's Lakeshore campus sang out their declaration at a rally in support of striking college faculty Friday afternoon.
"We want, we want, classes."
The chant was part of a longer one, written and performed by students in the theatre performance program. It was chanted to the tune of Queen's "We Will Rock You."
Iliana Spirakis helped organize the student performance. She said she supported the strike, and that the faculty union's demands were valid.
"In a few years, this might be us," she said. She said academic freedom was especially important to her as an artist.
"If our artist teachers do not have the freedom to create and to teach us whatever they want, how are we going to learn?" she said. "It's art, it's not math."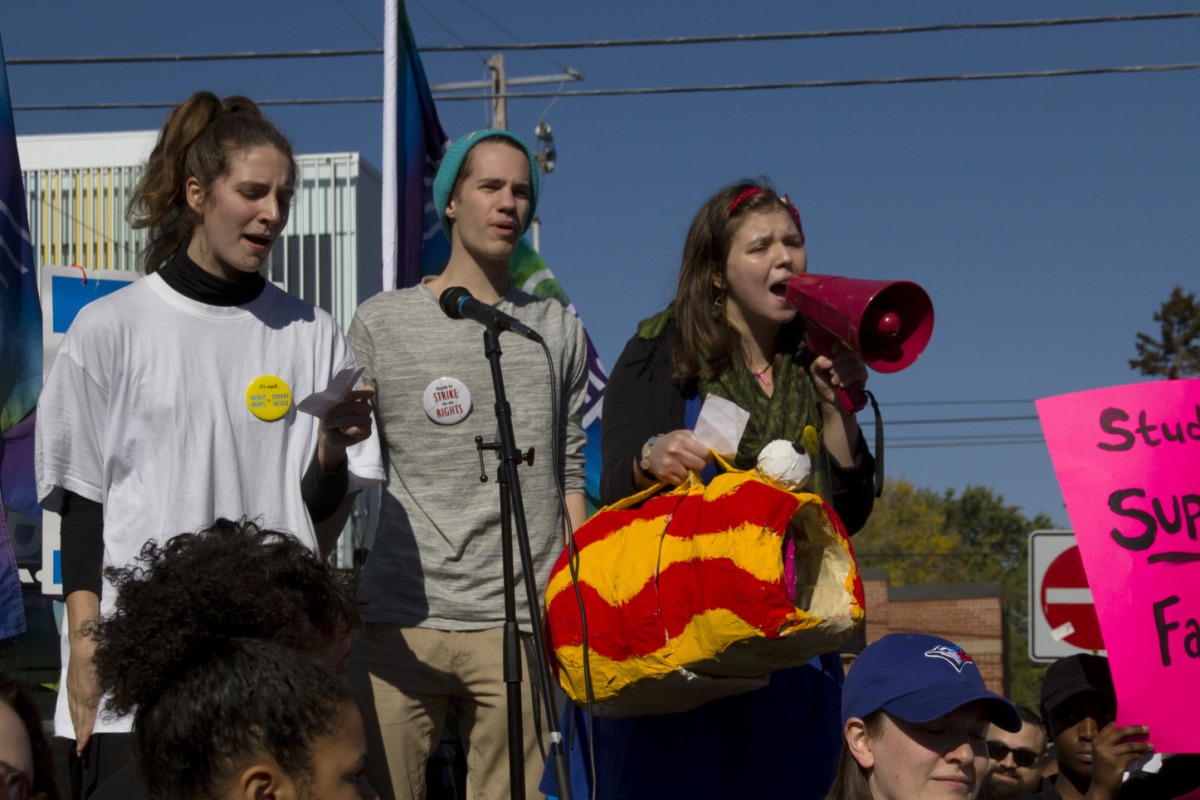 Iliana Spirakis leads a chant at Humber College's Lakeshore Campus on Friday, October 20, 2017. Spirakis said students just want their education, as they're at college to learn. Photo: Kit Kolbegger/ The Spare
Keira Forde, a second-year student in the program, said that she took part in the performance to show her teachers her support.
"Today, we're showing our teachers… and everyone involved in the strike that the students really do care about our faculty," she said.
"We support our teachers and we're not mad at them. We want the union and the board and everybody to know that we think what they're fighting for is important to us."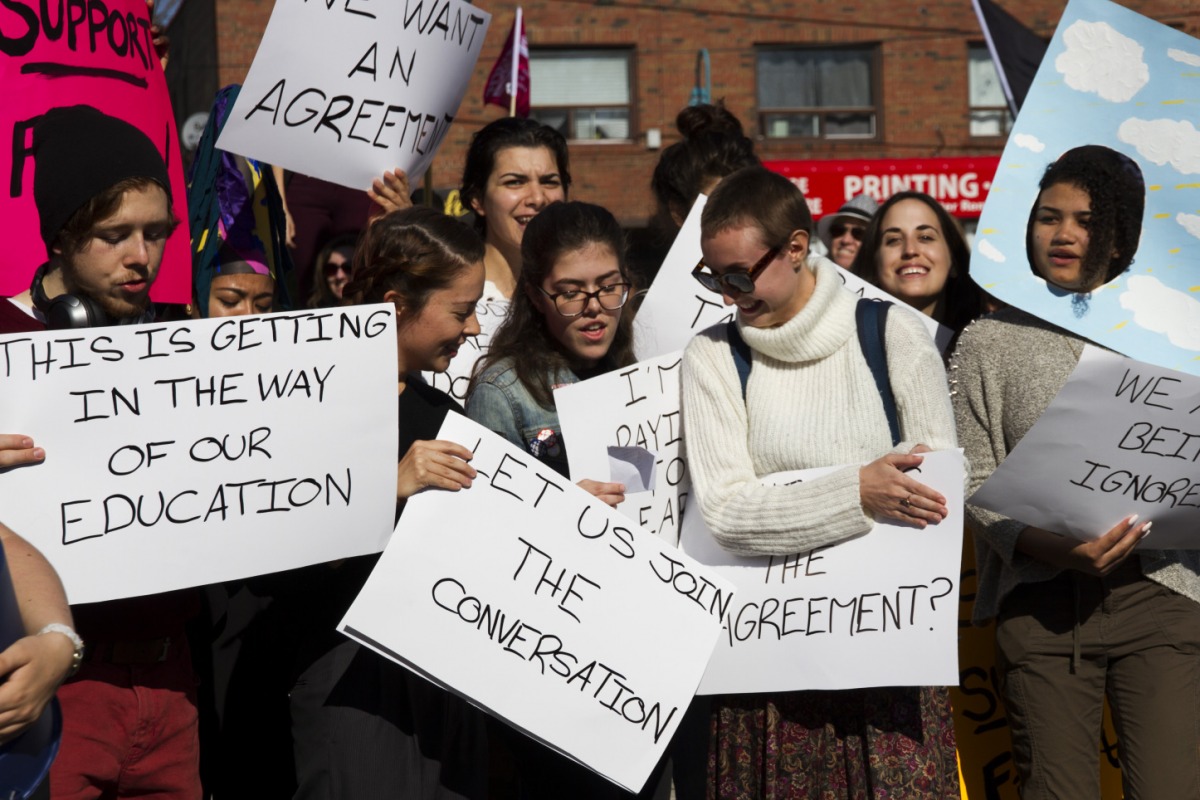 Students look at their chant sheet and hold their signs at Humber College's Lakeshore Campus on Friday, October 20, 2017. The chant included lines like "We're mad at the college, not at our teachers" and "This is not fair, just get it together." Photo: Kit Kolbegger / The Spare
Bob Bolf, Humber's faculty union president, said that the union firmly believed both students and faculty are important.
"Everything is built on the fact that students matter. Students come to our college to learn skills that will make them successful in their careers," he said, addressing the crowd.
Bolf said that students come to colleges because of the faculty there.
"Students learn from faculty. They don't learn from brand new shining buildings with glass and chrome."
Emma Dinning, a first-year student in the theatre performance program, said she came out to the rally to learn a little more about the strike.
"I was not as aware of the political climate in the school as I should have been," she said. "I was so woefully uninformed."
Dinning said other students, not just faculty, had been very informative about the issues in the strike. She also said she had looked at one of the leaflets faculty had been handing out, which outlined five key issues for the union.
"It seems like all of their requests are reasonable and they're being so respectful the way they're going about it and the other side just seems to be having nothing to do with it."
JP Hornick, head of the faculty union's bargaining team, said she felt the rally had been amazing.
"We had the Canadian Association of University Teachers show up in support, we got so many students, we've got really good union support," she said.
Hornick said precarious work and meaningful participation by "ground level" employees were important issues for everyone, students and teachers alike.
"Every time you talk to a student, they immediately understand these issues, and they immediately understand the impact it's had on them," she said.
Hornick said she would encourage students to come out to the picket lines to talk to their instructors about the strike.
"Whether you agree with what's happening, whether you don't, whether you understand it or whether that's a foreign set of issues for you, come out and talk to your faculty and find out what it means for you. Then decide from there."