Rental situation getting "exponentially worse" according to tenant advocates
When I catch up with Saj Emmanuel, he's in the thick of it.
"I have an appointment with a landlord at 2:30 p.m." he said over the phone, at 2:.15 p.m.
The international student is full of enthusiasm to start his studies at George Brown College, but first he has to sort out his housing situation.
"I have a couple of things lined up now but nothing permanent. I'm being hopeful, but I hope I won't get stranded," said Emmanuel. "At the moment I'm just lodged up until tomorrow."
This is only one face of the rental housing crisis. It's not a student-housing crisis specifically, but one that's affecting people city-wide and students find themselves in a particularly difficult situation, as they usually need affordable housing downtown.
"If you're used to a higher vacancy environment you show up, three days later you have a place," said Geordie Dent, executive director of the Federation of Metro Tenants' Associations. "In Toronto people are showing up and can't find a place for two months."
Anna Oliveros is a second-year business administration and management student who moved twice in the last year.
Oliveros said the process of finding rental housing was very difficult. She moved into a one-bedroom apartment near Casa Loma campus in November.
"It was the first place I looked at and I just snagged it right away because I knew that if I kept looking for another apartment, that opportunity will be missed.
Oliveros has two kids though, and to live with them she needed at least a two-bedroom apartment.
"Especially on grants or OSAP it doesn't cover anything," she said. "It barely covers rent. I don't even know how I manage."
Unable to find a place she could afford Oliveros wound up moving back into her parents house in Scarborough even though this meant a two-hour commute each way.
With a vacancy rate of 1.3 per cent for the Greater Toronto Area (GTA), students like Oliveros are getting squeezed and are often up with their parents in the suburbs.
But living farther away isn't always a tenable solution to finding affordable housing.
According to reports from the Canadian Mortgage and Housing Corporation (CMHC), while the cost of housing in the GTA generally decreases the farther you get from downtown, the amount of rental housing also decreases as you get to the outer suburbs as most of the housing built there is in single family homes rather than higher density rental housing.
CMHC reports also mention that students and other young people often prioritize living close to downtown for social and recreational purposes as well as being close to school.
Emmanuel, for example, said that his "main priority to get a place close to school so as not to end up feeling like an outcast."
"I viewed a place in Scarborough and I must say the place is nice but I declined the offer because it's quite far from school," Emmanuel said. "I want to live around the school environment, downtown, so as to always keep my mind refreshed."
George Brown used to market itself with the slogan "the city college" and a perhaps unplanned but critical part of the learning experience is getting used to living and working conditions, including the skill of navigating the rental market in a major urban centre.
This particular class in life skills is getting more difficult to pass however. Even people who are experienced at finding housing in Toronto are getting squeezed, and if you haven't looked for housing in the last year, you might be out of touch with the current realities.
Dent said that the situation is getting "exponentially worse." Oliveros might have been able to find a two-bedroom apartment for $1,500 back in November, a price which is already over her budget. But if she looked now she not likely to find anything at that price.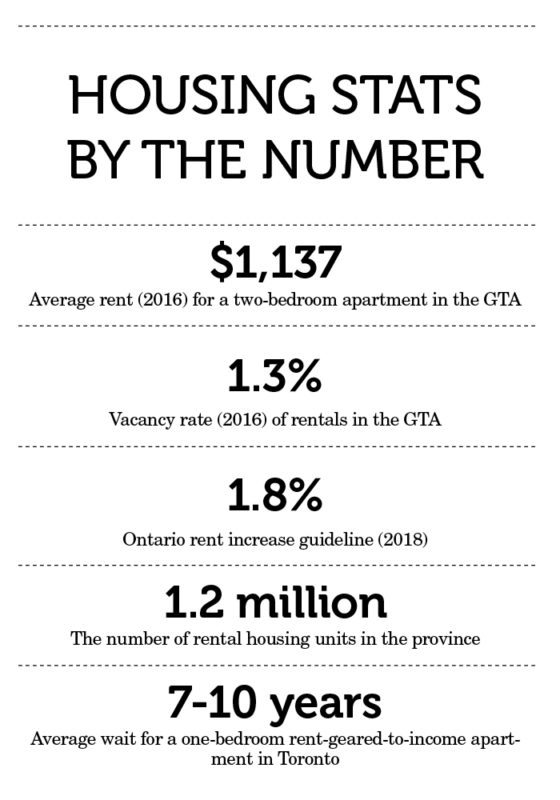 "Even a year and a half ago, you're looking at the average one bedroom that's renting out now, and it's like $1,900 or $1,800 and that's a lot of money for not a lot of space," said Luke Fraser, a real estate agent with Royal LePage and a George Brown graduate.
Fraser got his real estate licence during his last year of a marketing program at George Brown, and offered his services to the college's housing department. He said he was able to help students find places, but that it's getting harder because "the market right now is out of control."
Fraser thinks that universities and colleges should do more to ensure students have affordable housing.
"I know George Brown has the new residence, so George Brown did good with that," he said. "But all schools need to take into account that if rent is expensive in the city it's going to be tough for the students."
The George opened last year, and is making a difference. Courtney Hayes, who works at the front desk, was enthusiastic about both the amenities and benefits of living there for students.
"It has a nice community feeling," she said. "It has that kind of a vibe so they can definitely have fun here and it's a nice atmosphere for sure. "
The George houses around 500 students, but starting at $9,250 for the fall and winter terms, it isn't cheap.
Dent said that across the city of Toronto, there is hardly any student-specific housing being built and that most students are forced to compete on the private rental market.
He said that finding rental housing near educational institutions, especially campus located near low-rise housing like Casa Loma campus is a problem.
"You just get this mass of illegal rooming houses or collective housing that's a bunch of people crammed into really tiny spaces, whereas 10 years ago they 'd just get a two bedroom and share it," he said. "Now you've got four people sharing a two bedroom and dangerous situations like that."
With online rental companies like Airbnb taking nearly 5,000 houses off the market, according to a report by McGill's school of urban planning, the situation is not getting better any time soon.