GBC students have a unique approach to fashion and what they wear to school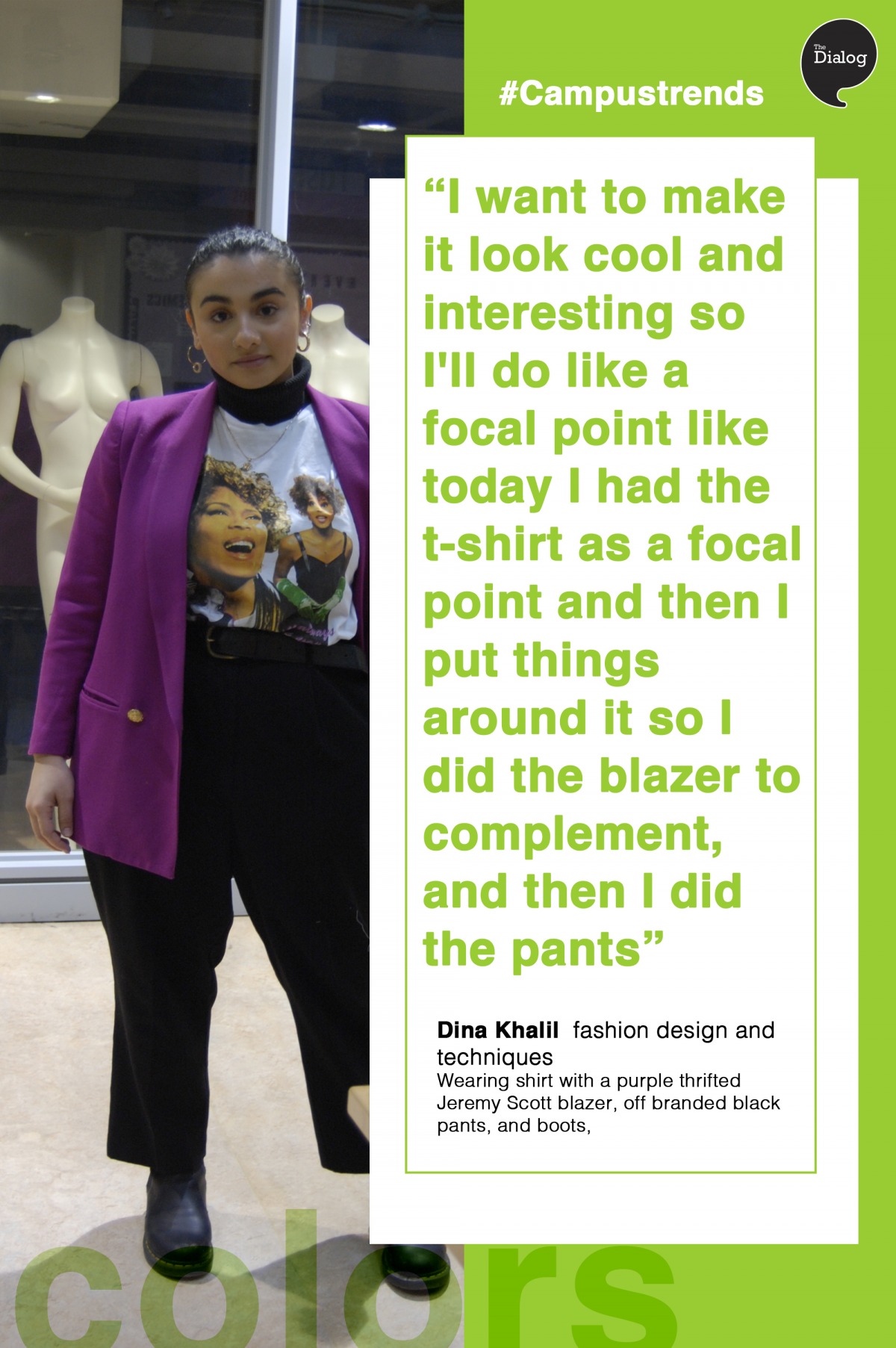 Whether it's about making a statement, wearing what makes you happy or just being comfortable, fashion has a part to play in the daily routines of students at George Brown College (GBC).
While choosing the perfect outfit for the day is a big deal for some, others just throw on what they have and go.
For Dina Khalil, fashion design and techniques student at GBC, "it's kind of a big deal."
In fact, fashion is what prompted Khalil to leave her hometown in Detroit to move to Toronto.
"I used to draw a bunch of clothes that I couldn't afford when I was a kid and then it just kind of progressed and I kept drawing," she said.
There is no one direct source of inspiration when it comes to choosing her outfits but most of Khalil's clothing are usually thrifted.
The fashion student was rocking a thrifted Jeremy Scott purple blazer, paired with a Whitney Houston H&M t-shirt and baggy black pants to bring it all together.
As for the thought behind her outfit, it was "just what I felt like wearing. I wanted to wear a lot of colour so I decided to wear a lot of colour."
Unlike Khalil, Julia Brown, another GBC student, knows exactly who inspires her fashion choices.
"Kim Kardashian wears a lot of neon, so I'm trying to incorporate more colour," said Brown.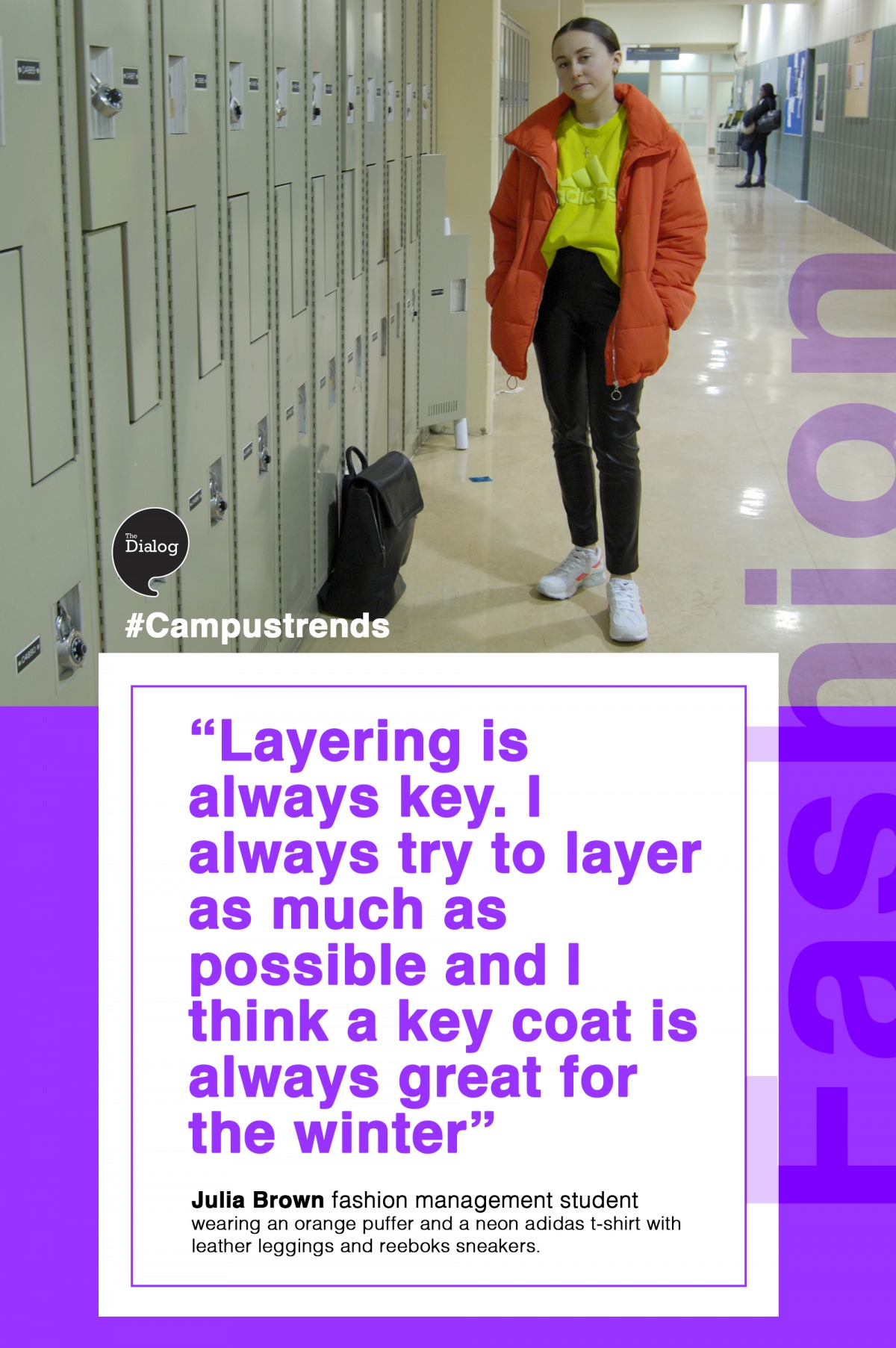 Brown was also inspired by Kendall Jenner and is now trying to incorporate more leather into her street-wear style as she does.  
In keeping up with the Kardashians, Brown's striking orange puffer could be easily spotted among others in the hallway.
She also wore a neon-coloured Adidas t-shirt, along with a pair of leather leggings, to maintain the signature Kardashian look.
Brown also draws ideas from social media, the streets of Toronto and her fellow students at the college.
But it is not all about trends and style for some students. 
Comfort is also a key factor.
"I dress for comfort," said video game programming student Nick Sirju.
"We all have our days of when you know we just don't feel like putting on anything good," he explained.
Sirju was wearing what he refers to as his "chill clothing," a button up plaid shirt with an unzipped hoodie and loose jeans, finished with a pair of sneakers.
Presenting yourself in a professional manner is also important, he added. "I would say grooming is one of the most important parts of fashion as well."
Asis Deepsingh shares a similar view saying that fashion for him is "the way you carry (yourself), it is the way you show your comfort and feeling in it."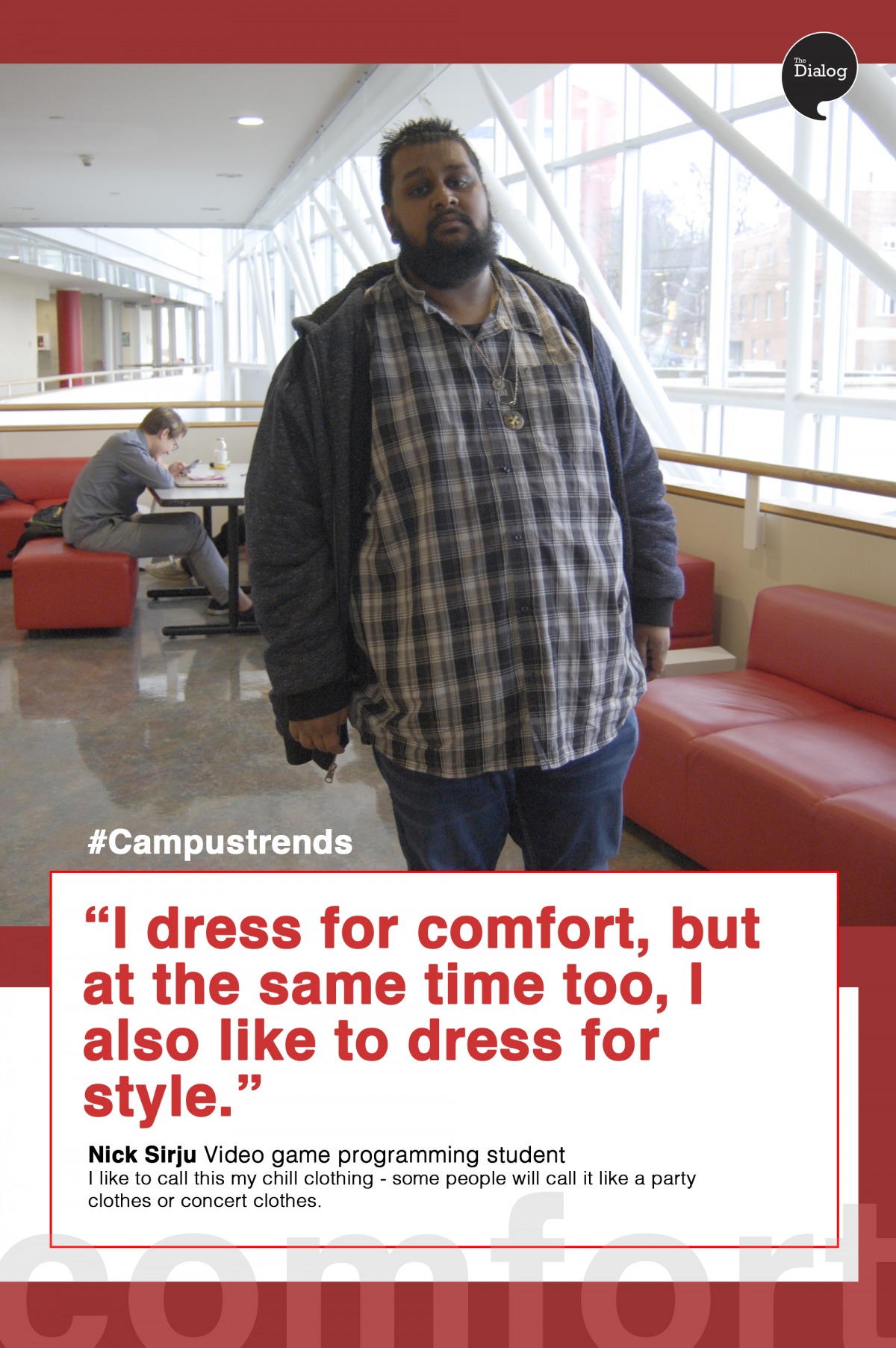 This general arts and science student prefers outfits that are easy to wear and portray his personality and identity.
Deepsingh paired contemporary western clothing, a grey sweatshirt, and white pants, with traditional Sikh wear, a turban.
"Be confident, just move with the style and be confident with what you're wearing," is his take on fashion.
However, for Torontonians, the weather plays a role in what you wear.
Yonas Kahsay, a system technology student was able to take advantage of what appeared to be a light winter thus far. 
He wore a knitted sweater, opened-out jacket and a pair of jeans and topped it off with a matching scarf.
But as the cold creeps in, it's all about the layers.
"I think a key coat is always great for the winter," said Brown as a suggestion for dressing up even when the weather is down.
Her tip to newcomers to Canada who is not yet sure what to expect is that a coat is "something that ties your outfit together even if you're outfit is not that cute or it's just basic, you can put on a nice coat and it'll look put together."
Khalil's suggestion was not much different.  "I wear like my outfit underneath and then the bigger coat I take off with my outfit underneath."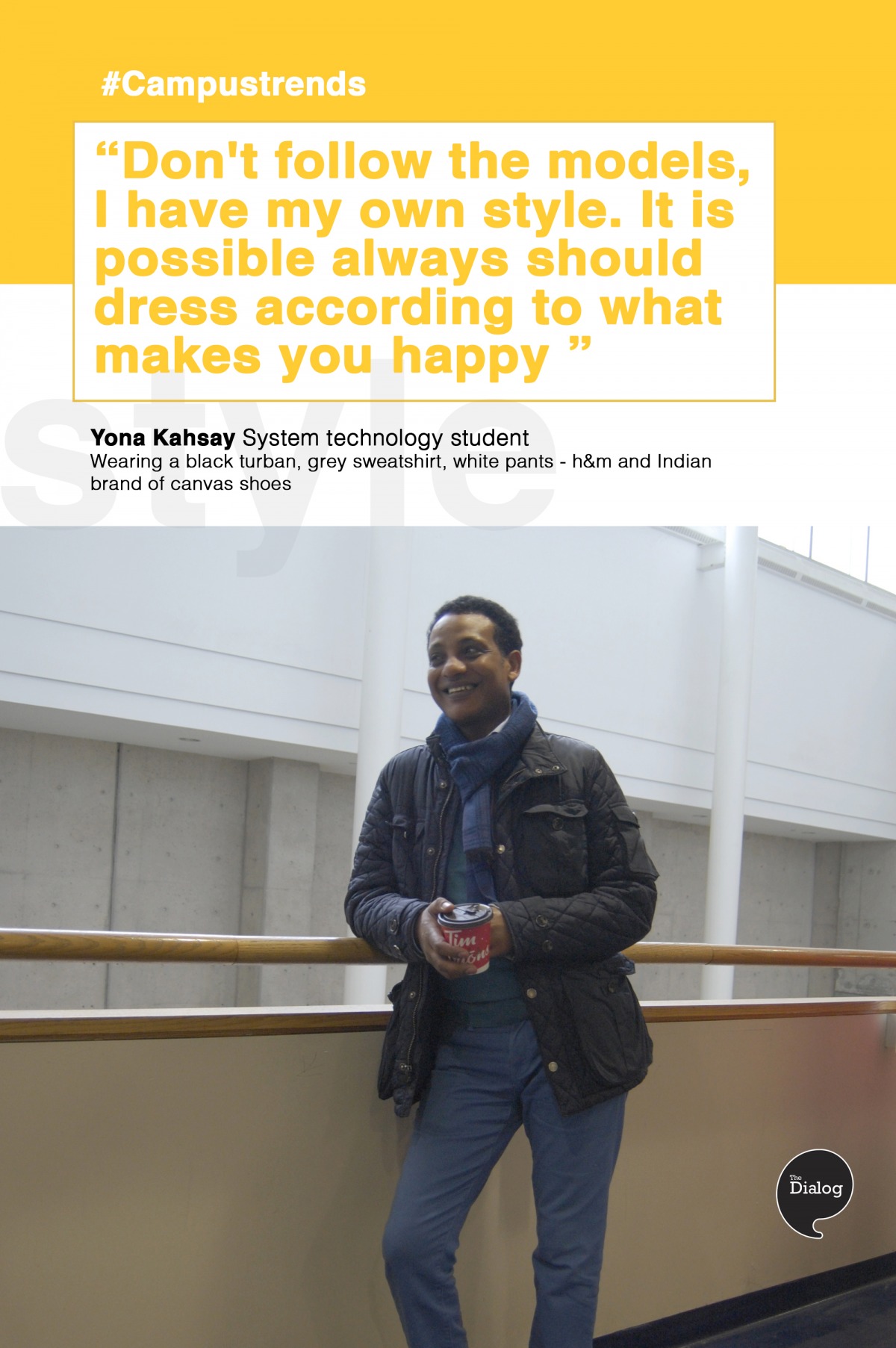 "As long as you have a good, thick coat and good boots, you should be okay," she added.
So it seems as though GBC students have gotten it right when it comes to fashion. As for trends on campus, it's all about doing it your way and wearing what makes you feel good. 
With files from Ladshia Jeyakanthan.