Our guide to staying frosty, well-fed and entertained during this epic holiday season
December and the holidays can be about overdoing it. Too much studying, assignments, partying, eating, money spent, time with family and so on. And all of this excessive activity can be coupled with not that much sleep.
By the end of the month, it's easy to feel like you've lit a few too many candles and they didn't just burn at both ends; they also burned your entire house down.
But don't worry; we have the plan to get you through the month. Stay frosty my friends.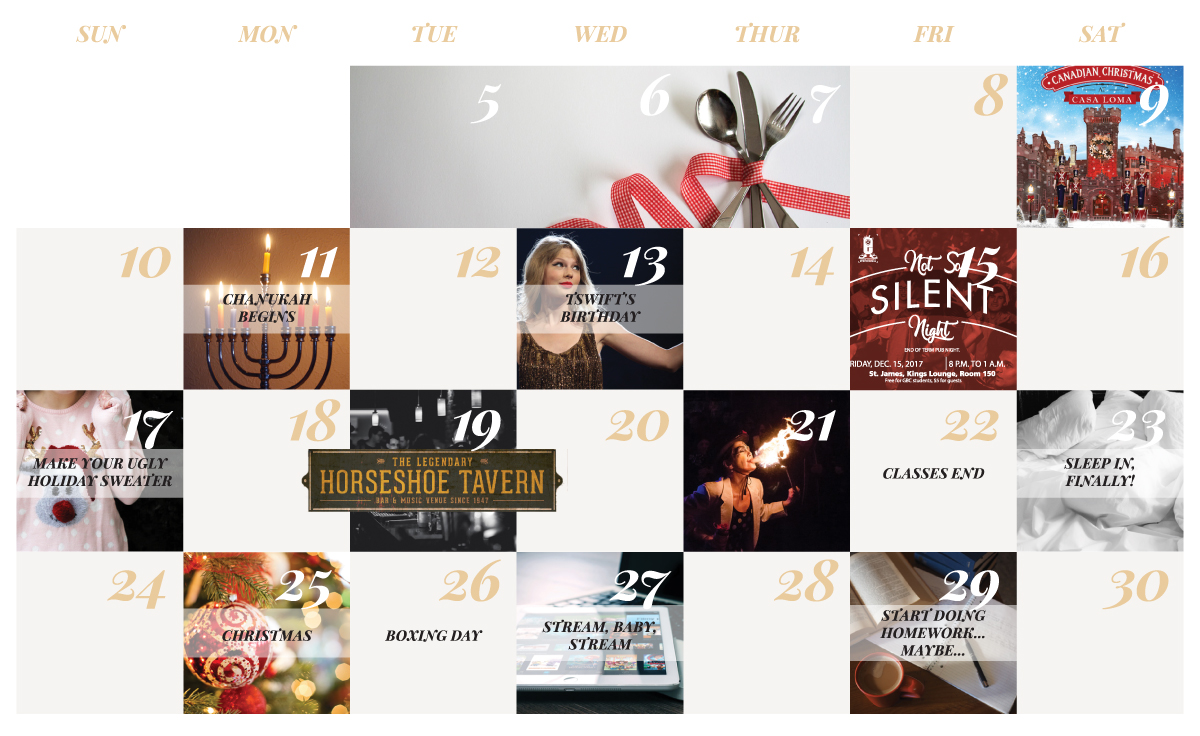 Dec. 5-7
Free Lunch on Us!
Free and lunch are two of the more captivating words that can be uttered in the English language. Just please stay calm when you remember that there is free lunch and don't turn your local GBC campus into a Black Friday stampede video. Organized by the SA, GBC student life, and Chartwells.
Dec. 9
Canadian Christmas at Casa Loma
Casa Loma, is not just a GBC campus, it's actually a castle near Dupont subway station and is basically hosting every family friendly Christmas activity you can think of in December. You can see Santa Claus, ice skating, do some cookie decorating, and if you go the right day, there are also magic shows, bouncy castles, and aerialists. It's not cheap ($30 w/taxes), but should be something like a Christmas movie in a castle. Runs all of December except for the 25th.
Dec. 15
Not So Silent Night
This is set to be an appreciation night for all the hard work that students have put in so far this year. After classes, exams, assignments, part-time work and strikes, we need this. Organized by the SA. $5 8 p.m. to 1 a.m. Kings Lounge St. James A Building, Room 150 200 King St. East
Dec. 19
Holiday Bash at the Horseshoe Tavern
If you need to blow off some steam in the middle of exam/assignment hell, this holiday bash at the legendary Horseshoe Tavern might be just the thing. The night features indie-rock darlings Jane's Party, and the band will be playing their brand-new holiday track at the show. They'll be joined by The Kents and Caren, who just released her self-titled debut in October. $10 advance. Doors 8:30 p.m. 19+
Dec. 21
Winter Solstice Festival Parade
The longest night of the year can get cold and dark. That is unless you visit the eclectic and typically raucous Winter Solstice Parade in Kensington Market. We're talking giant puppets, fire breathing, and the all the spirit that the market can muster. Bring a warm beverage and an open mind. Starts at nightfall.
Dec. 23
DJ Skate Nights 1 LOVE T.O.
Is there a more Toronto event than having a DJ ice-skating party at the waterfront? Happening at the Harbourfront Centre, this night will be hosted by Tyrone "T-rex" Edwards with DJ Dlux and Yuknodis spinning as you spin around on the ice. What could possibly go wrong? Rental skates available there. Free.