New mural at Spadina and Dupont rich in Indigenous symbolism 
Artists are working on a striking new mural at the corner of Spadina and Dupont, right near George Brown College's Casa Loma campus.
Rich in Indigenous symbolism, the new mural is not only beautiful to look at, it represents a continuation of the cultures original to this land and is an educational project for both Indigenous people and settlers.
The mural was commissioned by the Dupont by the Castle Business Improvement Area and designed by Phil Cote, a direct descendant of the famous Shawnee leader Techumseh, who identifies as Shawneee, Lakota, Potawatomi, Ojibwe and Algonquin. His Indigenous name is Noodjmowin (healer) Meskoguyosh (red seagull).
Muralist Cesar Rodriguez was proud to work on meaningful public art.
"I like to do work that re-creates our values as human beings," he said. "As a society we can't make good decisions until we know our values."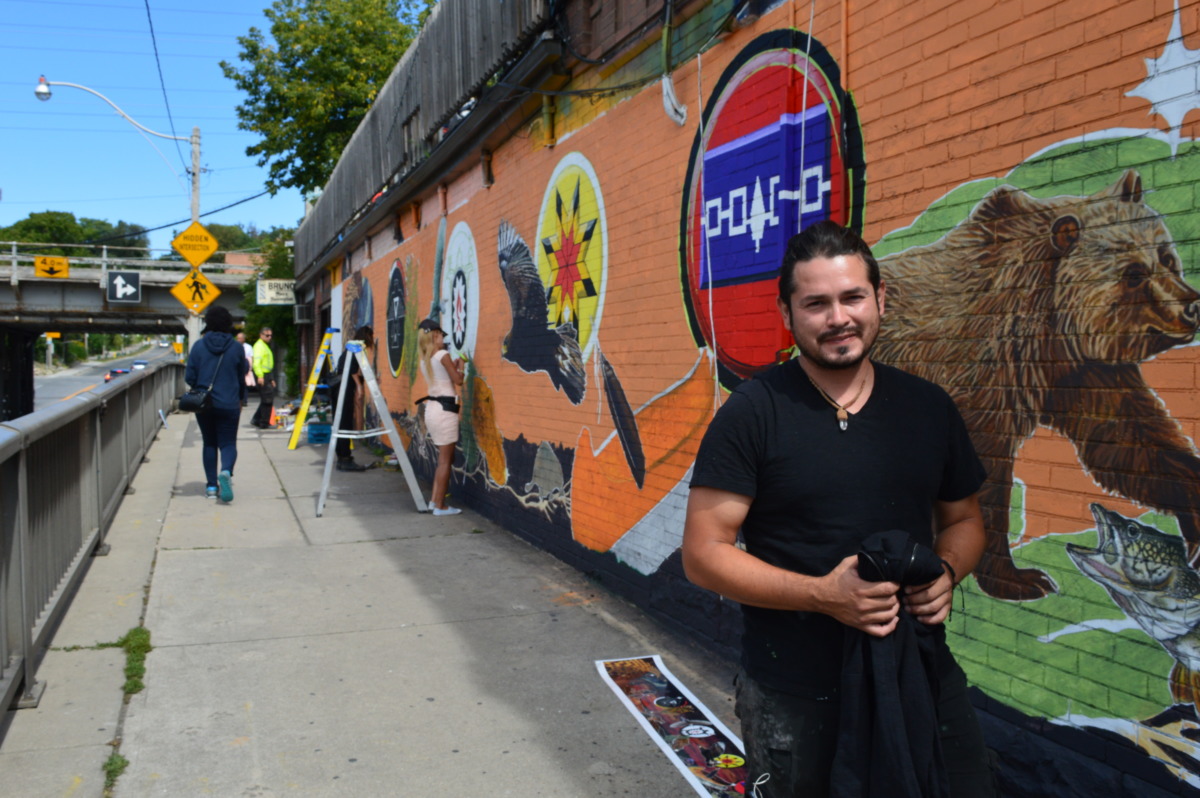 Cesar Rodriguez helped paint the new Indigenous themed mural at Spadina and Dupont. Photo: Megan Kinch / The Dialog
The way Cote – whose Indigenous name is Noodjmowin Meskoguyosh, explains each symbol on the mural is a story in itself. It's clear that each one is incredibly rich in multi-layered meanings that would take a lifetime to fully understand.
"The medicine wheel holds all our knowledge," said Cote. "It's a very simple looking image but it's a very powerful tool. It's a mnemonic device used to help people remember our story."
Cote said that the four circular crests along the mural represent "a real acknowledgment of the four nations that were around here. One is Anishinaabe, the next is Wendat, Cree and then the Haudenosaunee."
The land that we call Toronto, likely from the Mohawk word "Tkaronto," has an overlapping history of being home to those four distinct Indigenous Peoples.
The Tkaronto project of Indigenous placemaking write on their website that although 70,000 Indigenous-identified people live in Toronto "not all of us are being seen or being meaningfully reflected in our city." The project page goes on to say that the region's first community "has been all but obscured from the public presence."
Cote's art similarly seeks to make a difference in this public erasure of the Indigenous past and present. A member of the Eagle Society himself, he placed an Eagle dancer in the mural.
"He represents some hope from the past that we're going to find our way," he said. "We're looking to those people and our cultures to kind of find our place here, because of colonization and residential schools and the genocide that happened across North America."
Cote said the history that has been taught about Canada's past with Indigenous Peoples is overly simplistic and that he wants to help show more through his artwork.
"Indigenous people need to tell our stories and that's why I do these murals because I want to tell our stories. I want our stories to be important because that story is the foundations for identity for Indigenous people."