Police arrest two men and release photos of two other suspects wanted for the murder of former GBC student Samatar Farah
Toronto police have made two arrests in the shooting death of former George Brown College student Samatar Farah. They are still seeking two other suspects in the murder.
On Thursday, police in Toronto and Ottawa executed 11 search warrants that ended in the arrest of Taufiq Stanley, 20, who is charged with first-degree murder and multiple firearms charges.
Trevor Barnett, 25, was also arrested and is charged with three counts of attempted murder.
Police say that on April 13 three men were outside a residence on Chester Le Boulevard, near Finch and Victoria Park when two suspects approached them and opened fire. The suspects then fled in a vehicle with the other two suspects.
Farah, who was 24, was found dead on April 15 from gunshot wounds.
Homicide Detective Jason Shankaran said that the shooting was a result of a "feud" between the suspects who are from the Parma Court housing complex and some people in the Chester Le neighbourhood. He said that the shooting did not target Farah, but rather the neighbourhood he lived in. 
"The only thing that he did was be a resident of Chester Le Boulevard," said Shankaran, adding that Farah was not known to police and and that he "was one of the good guys."
Farah's death, Toronto's 15th homicide of the year, shocked people who knew him from his time at the college.
Jonathan Smith, the coach of George Brown's basketball program, remembered Farah as a polite young man who trained for two summers with the team working on becoming a better player and who was a pleasure to work with.
"He was never one of those kids to get in trouble so why it happened I guess no one knows right now, said Smith. "No one ever does."
While it has been over a year since Smith last worked with Farah he said when the news broke there was "a lot of sadness, a lot of basketball players, a lot of students who were around varsity athletics knew him if they were here for a few years. It was a senseless loss of life."
Police are still searching for two men.
Alexander Fountain, 23, is wanted for one count of first-degree murder and three counts of attempted murder.
Shaquan McLean, 23, is wanted for three counts of attempted murder.
Anyone with information about the two wanted men are asked to contact police.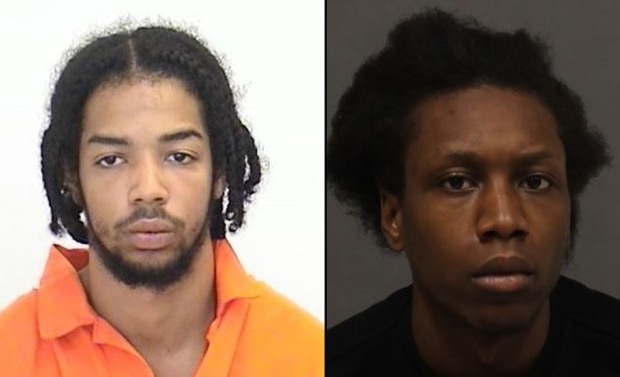 Police are searching for Alexander Fountain, 23, (left) and Shaquan McLean, 23 (right) in the murder of GBC student Farah Samatar. Photos: Toronto Police Service.