Sold-out Newfoundland-inspired dinner at The Chef's House
"Some chefs make it so complicated, it becomes boring," said chef John Higgins, in his introduction to the Newfoundland Dinner. Higgins  says, unlike many, chef Roary MacPherson follows the keep-it-simple path and succeeds.
Chef Roary MacPherson visited 215 King all the way from Sheraton Hotel Newfoundland, where he holds the position of executive chef. As part of the George Brown College (GBC) centre for hospitality and culinary arts Trending NOW dinner series, chef MacPherson brought a four-course dinner on Wednesday, Feb. 10. The event was sold out with 50 guests.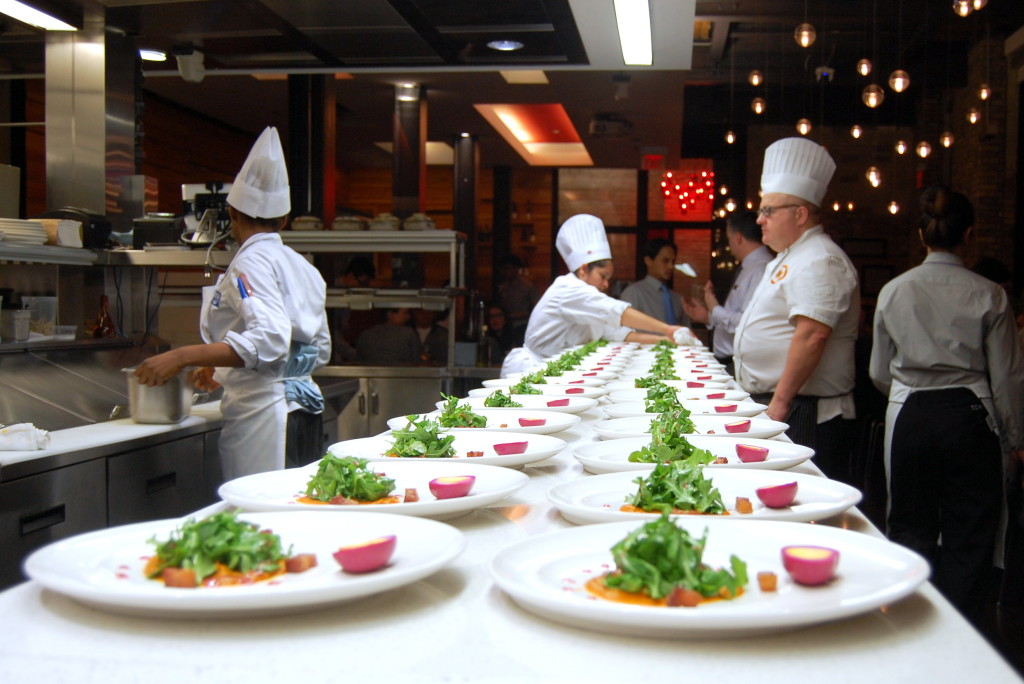 The night featured Newfoundland's specialties, with each serving offering something distinctly from the island. During the reception, a traditional Sunday meal was customized to serve jiggs dinner croquette with mustard pickles and micro greens along with an ice shrimp strata. Accompanied by an apple ginger screech cocktail based on Newfoundland rum, the hors d'oeuvres were a great start.
Atlantic-caught lobster with asparagus hash opened the sit-down dinner, blending the crispness and slight sweetness of asparagus and the softness and tenderness of fresh lobster.
The second course presented Point Leamingtion bacon lardons with carrot puree, beet pickled egg and greens topped with partridgeberry dressing. Partridge berry is a Newfoundland-grown cowberry with sourness that complemented the bacon nicely.
Newfoundland cod and local sausage ragout with tomatoes, potatoes, roasted root vegetables and scrunchions under a caper vinaigrette were served last. Scrunchions, those little irregular sizes and shapes of cured salt pork fried golden brown, are a Newfoundland signature. For this dish, the scrunchions were sprinkled over cod creating odd but surprisingly delicious bedfellows.
Throughout the dinner, Niagara wines were served. Private-label chardonnay as well as merlot and cabernet blends from Cave Spring were The Chef's House specialty.
For dessert, brown bread and (more) screech with ice cream, apple and raisin crisp was served.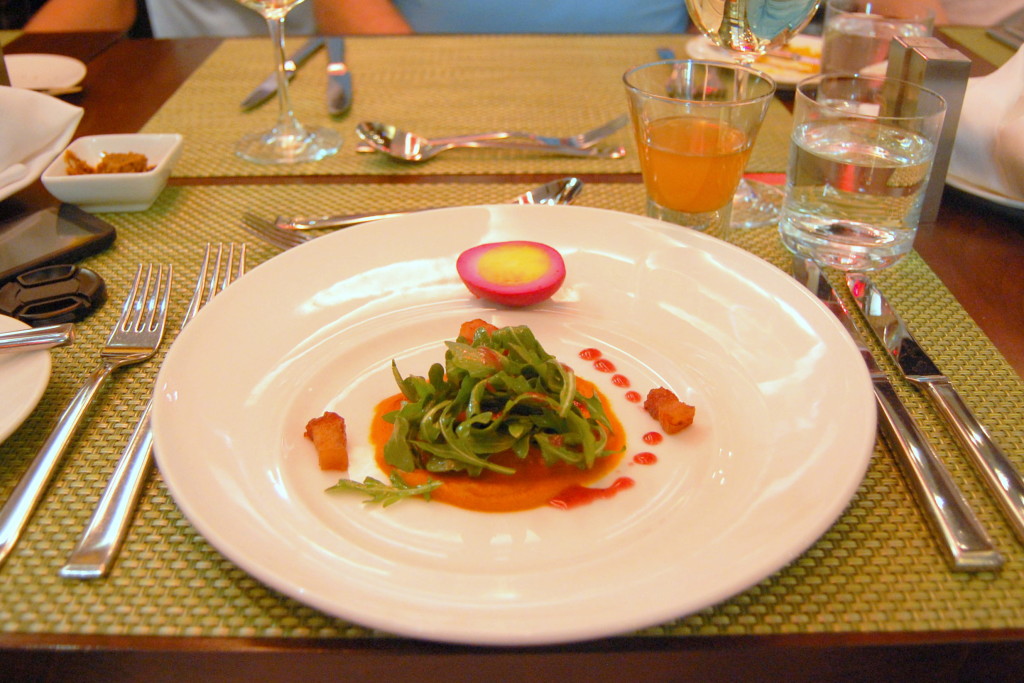 The overall atmosphere of the event was more than casual. Thanks to The Chef's House open-kitchen concept, guests had a chance to observe the process of all the dishes being created and meticulously plated in front of them. With chef MacPherson wandering around and supervising the kitchen, event guests had a chance to talk to him and compliment the food.
The Newfoundland Dinner attracted faculty members as well as alumni. Herman Pfanzelt, corporate chef at Export Packers Company Limited and a graduate of the culinary management program, came with his wife. It was their first time attending an event like this but definitely not the last one.
Pfanzelt especially enjoyed the unusual cod and sausage ragout. "This is a good example of when thinking outside the box comes out great."
Trending NOW dinner series bring together GBC culinary students with notable chefs to prepare authentic dinners for the public. On March 9, Trending NOW presents Tea Dinner with Raelene Gannon.