Huskies start off their season home opener flawlessly in the Alex Barbier gymnasium, winning both games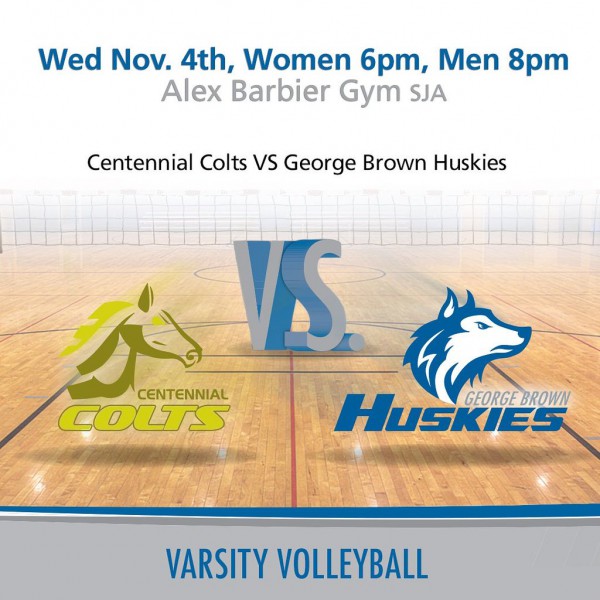 Home opener jitters did not get the best of the George Brown's men's and women's volleyball teams as both went on to win against Centennial College.
In a thrilling four-set match the women's team was able to defeat Centennial 3-1 (25-22, 25-22, 21-25, 25-21) in the Alex Barbier gym on Wednesday, Nov 4.
"I'm always happy for a win, but I was a little bit disappointed at our performance because we have a much higher level of play that did not come out tonight," Huskies head coach Dana Cooke said. "Pao (Ming Lee) and Tiana (Samuel) did a great job tonight considering I am asking them to do a lot of things. I thought they did a great job, they have a ton of athleticism, and all that's remaining is to work on those fine details of their game."
Samuel led the team with nine kills while adding in 16 digs. Pao Ming Lee had a team-high of three blocks while Audrey Chau led in digs with 18. Andrea Huckins kept the engine running with three serving aces.
Neither team established a big lead during the early going in set four. Both teams continued trading points back-and-forth until GBC took a strong 22-19 lead due in large part to solid blocking from Elizabeth Malatestinic and Ming Lee. Despite Centennial's effort, the Huskies sealed the match with no difficulty after multiple attack errors from Centennial.
Men's volleyball team steamrolls Centennial
The Huskies men's volleyball team was also pitted against Centennial and created a comfortable lead early in the game, going on to win fairly easy three sets 25-13, 25-14 and 25-17.
Team captain D'Artaniel Jackman led the team with 10 kills and seven digs as Oscar Kahu added seven kills and one block. "I am very glad with how this game turned out, we wanted to come out and have a hard and fast game and that's what we got," said Jackman. "I can tell from our coach's demeanor that he was happy about tonight's game too. He told us to keep a cool head and keep on pushing throughout the games, so I think he was pleased. I think we played really really well."
George Brown did play well, they quickly took a decisive 10-5 lead to start the first set and a glorious kill by outside hitter Romin Karnakov gave the Huskies a 11-5 advantage.
GBC went on to win the first set 25-13 without any real battle from Centennial. After back-to-back blocks from Eoghan Bracken-Murphy and Kahu at the start of the second set, the Huskies went on another run bringing the lead to 13-8. Never trailing after that, the Huskies finished the set 25-14.
The third set saw more of the same dominance from the Huskies team. Up 20-14, a big ace by Jackman helped increase the momentum for the Huskies allowing them to take the set 25-17 and the match 3-0.
On Saturday, Nov. 7 the Huskies played Canadore College, with the men's team beating them 3-1 and the women's team losing 3-0