Students love using social media and it can be a little overwhelming trying to navigate through all of the different places where students talk to each other; So here's our guide to social media at George Brown.
Facebook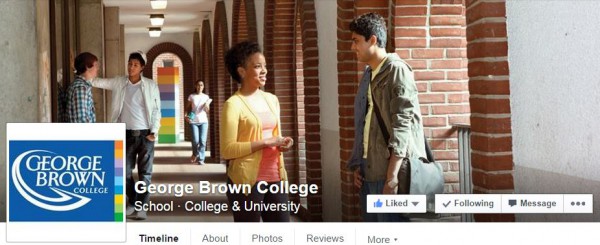 The George Brown College (GBC) Facebook page is useful for keeping up-to-date on important information such as the GBC student guide, the last days to drop classes, planned power shut downs, when blackboard and George Brown email is unavailable, and even cancellations during extreme weather.
With great photo galleries, the Huskies Facebook page brings you inside the games and competitions and well as linking to regular news articles from veteran sports journalist David Grossman.
The Community Action Centre page is focussed on underrepresented students and posts community events, activist campaigns, photos, skills trainings and progressive news.
One of the best ways to use Facebook as a student at GBC is to use the many Facebook groups that are available. Most programs have a Facebook group and some individual classes do as well.
"Accepted: George Brown College 2014" is a new and very active group for first year students who can use it to introduce themselves, ask questions and make new friends.
George Brown College Textbook Exchange is exactly what is sounds like, it's a group for GBC students to buy, sell or exchange textbooks.
Pro-tip: to find more Facebook groups search for "George Brown" and then scroll down and click on "Find all groups named 'George Brown'"
Twitter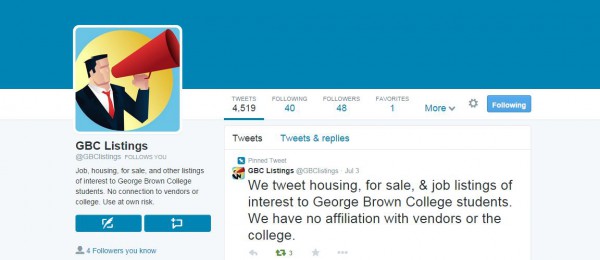 For real-time news and updates, nothing beats Twitter.
An automated twitter account @GBClistings uses "if this, then that" technology to crawl Craigslist and Kijiji and tweets out whenever an ad with the terms "George Brown" is posted. It ends up publishing many listings for housing and textbooks as well as some job postings.
The Dialog student newspaper's @dialogGBC  combines real-time reporting as well as photos and video clips, as well as links to many articles.
The official twitter account for the college is @GBCollege. The team running the account is very active responding to questions and also post GBC news as well as fun "throwback Thursdays" photos from their archives.
Pro-tip: Subscribe to some of the Twitter lists created by @GBCollege or @dialogGBC for an easy way to stay in tune with what people at GBC are tweeting.
Instagram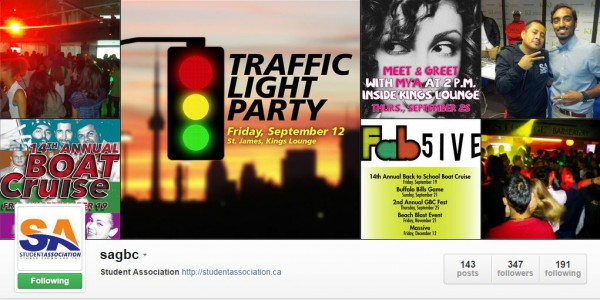 The SA's instagram account @sagbc is event-oriented and a great place to go to see if there's photos of you at the latest SA event.
@thedialog is the new instagram account for the student newspaper and brings you a behind the scenes look at stories.
@gbchuskies brings you photos of GBC athletes and the popular mascot Helder the Husky.
Pro-tip: use the location feature to search photos taken at the George Brown College campuses. students from the Chef School in particular post some delicious-looking photos!
YouTube
The Dialog's YouTube channel has a great selection of videos of stories about George Brown students, events and staff. Recent videos include students' opinions on if you should live at home or on your own, and a profile of GBC fashion graduate Sarah Powers.
Email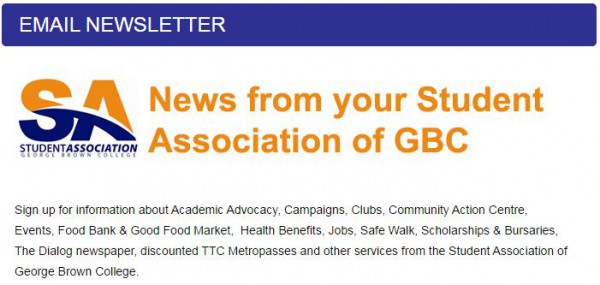 Email is old-school but still one of the best ways to get information. In addition to the weekly updates sent to your georgebrown.ca email address from the college, you can sign up for the SA's low-volume email list on their website at studentassociation.ca for news on events, health benefits, jobs, campaigns and more from your student association.