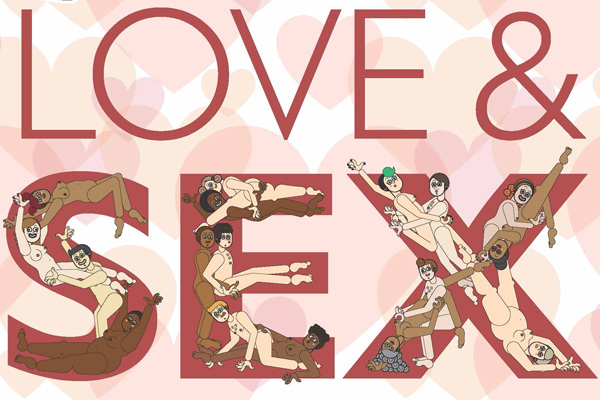 The results are in for The Dialog's Love & Sex survey of George Brown College students. How often are students having sex? How common are same-sex relationships? What are the most popular positions? And what toys do we have in our bedside drawers? 
Number of respondents
Female: 29 or 65%
Male: 16 or 35%
Relationship status
Dating was the most popular answer for relationship status at 35% followed by single at 20% then co-habitation at 13%. Eleven per cent had friends also enjoyed benefits. Women are more likely to be single or dating (62%) than men (50%).
Are singles having more sex than people in relationships?
No! Half of the people in relationships have sex three times a week while 30% have sex once a week.
Once a month was the most common answer of people who were not in relationships at 23% followed by three times a week at 13% and 6% said they were either a virgin or abstained from sex.
Same sex stats
Men were more likely to have engaged in sex with someone of the same gender with 56% to 31% by women. Men were also more likely to have had a same-sex relationship at 56% to 24% and had an 'out' same sex relationship 31% to 7%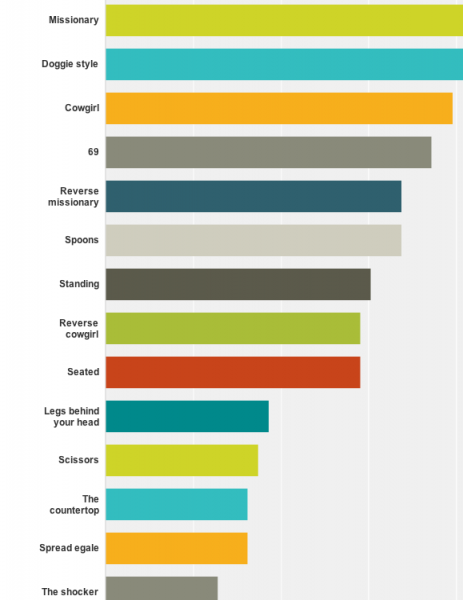 Positions
The most popular position was the classic missionary position with 93% of people having tried it followed by doggie style at 90%, cowgirl at 79% and the 69 at 74%.
Some of the less common positions included the propeller, helicopter, and landslide at 7% while 5% claim to have tried "bagpiping".
Protection
Condoms were the most common form of protection at 70% followed by birth control pills at 28% while 16% said they used no protection at all.
Sexually transmitted infections
A quarter of people said they had contracted at least one STI. The most common STI was tied between Herpes and Chlamydia with 9% of respondents getting each.
71% of people who said they didn't use any form of protection had contracted an STI compared to 26% of people who used protection.
Toys
Vibrators got students buzzing as the most popular sex toy with 64% of people having tried one. Showing some restraint handcuffs were the second most popular at 49% followed by dildos (43%), cock rings (39%) and blindfolds (33%).
While almost half of both women and men said they used handcuffs, men were more likely to have used gags and other specialized bondage gear such as spreader bars, harnesses and hoods.