By Dani Feraday
Dialog reporter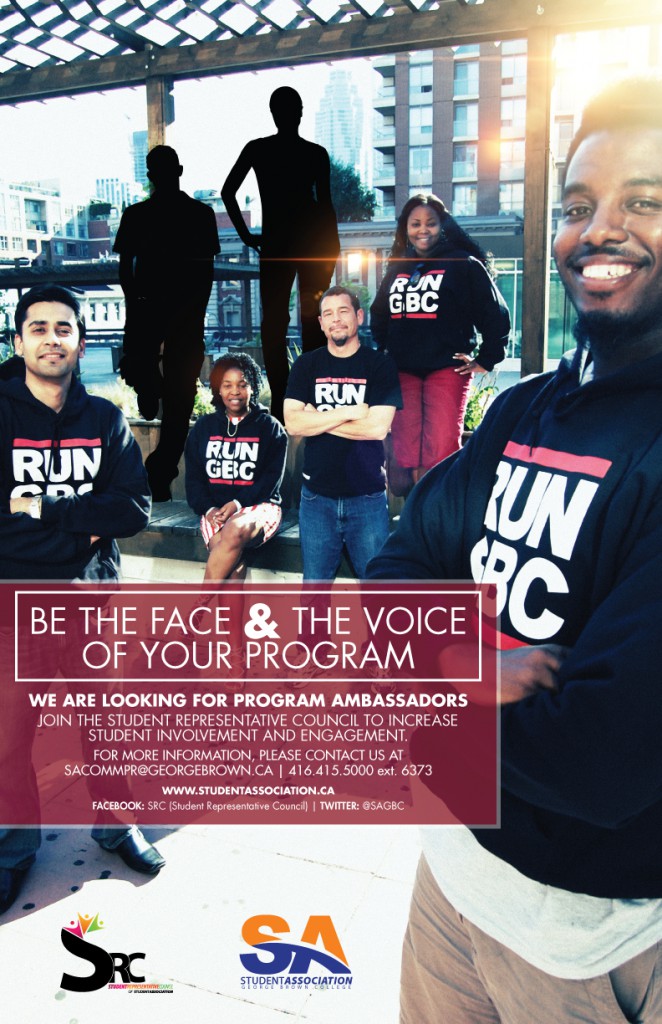 As a new student, or maybe a returning one, do you want to join a club, attend events or get involved in the George Brown community in general?
It is a right you have as a student to be able to do all those things but for a moment think about the people who make it possible.
The Student Association (SA) of George Brown College is made up of a group of people dedicated to making your stay at George brown the best you can possibly have.
George Brown has thousands of students, and the SA is trying to meet the needs of every one of them. They're going to need your help to do the best job they possibly can.
By applying to be a program ambassador in the Student Representative Council (SRC) you can help make that happen.
Originally there was anywhere between 80 to 100 spots available for interested students but it all depends on how many students want to join, no one wants to deny a student the chance to get involved. The more people who want to work on the SRC the more the word gets out.
Students who end up working with the SRC will learn great skills such as leadership and teamwork. Through volunteer points there is a chance to win some great prizes as well. Another perk of this position is you can get a letter of recommendation that can help you when you're applying for a job.
As a member of the SRC you will have the responsibility to find out the needs of your fellow students and let the SA know what they can do to make things better in the George Brown community. It will also be your job to inform your fellow students on all the events and services the SA has available for them. This position, as important as it is, does not give you any political power at the SA.
What qualifications do you need to become part of the SRC you might ask?
You need to be a student at George Brown; willing to put in a certain amount of time outside of classes; be willing to come out to events; and also help out with the vast amounts of volunteer opportunities at George Brown.
If you're interested go to any SA office at the George Brown campuses and if you're not don't be shy to speak up with ideas to those who end up being your representative. Their job is to help you have a great experience!